To achieve International Dark Sky Reserve status all those responsible for lighting (local authorities, highway departments, businesses and individual residents) are required to ensure that light pollution (light escaping sideways and upwards) is reduced to a minimum.
LEDs are now beginning to appear above our streets and main roads in very large numbers. Sadly, far too many LEDs are very bright, and their excess light reflects from the ground into the sky.
AONB Position Statement & Good Practice Note
The AONB position statements set out its current position on a variety of topics. These include light pollution, and the Cranborne Chase and West Wiltshire Downs Area of Outstanding Natural Beauty derives much of its beauty from its qualities of tranquillity, remoteness and cultural heritage. Light pollution has the potential to erode and destroy that tranquillity and sense of remoteness.
It is, therefore, considered appropriate that all artificial external lighting within its borders, or within the setting of the AONB, should be muted, screened, and the minimum required.
Position Statement 1 - Light Pollution (PDF, 75Kb)
Good Practice Note 7 - Good External Lighting (PDF 70Kb)
Position Statement 7a - Recommendations for Dark-Sky compliant lighting on new builds & refurbishments - a Developers' Guide (PDF 500kb)
Position Statement 7b - Examples of Dark-Sky compliant lighting units (PDF 957Kb)
Terms used in describing good lighting, and waste light not directed to the area to be lit.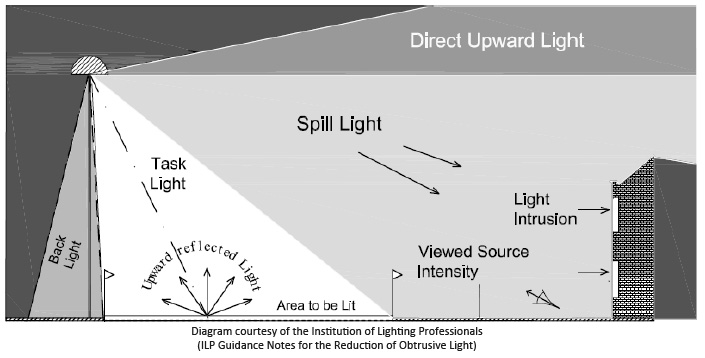 Task or Useful light – light that fulfils the task for which the lamp was installed.
Obtrusive light – light causing a problem of some kind through misdirection.
Spill light - falls outside the area where it is needed.
Upward reflected light - unwanted light bouncing off the ground.
Direct upward light - wasted light shining above a light fitting (not necessarily vertically upwards – it may be escaping just one degree above the horizontal but will eventually end up in the sky).
Light intrusion – over-bright and poorly directed light, often going in windows and/or causing glare and discomfort on other premises. Sometimes called light trespass, but this term is normally to be avoided as, in law, trespass is deliberate intrusion and the intrusive light is usually the result of ignorance rather than malice.
Examples
Good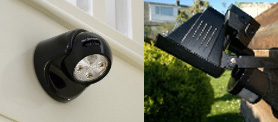 Compact LED light directed downwards. This and similar types are recommended for domestic, commercial, farmyard and similar uses: preferably with sensors to switch off when not needed.
Photo: Auraglow
A halogen floodlight, correctly angled, can light a large area.
Photo: Martin Morgan-Taylor
Bad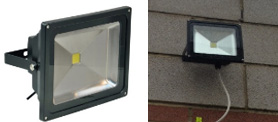 An LED floodlight that, even if tilted down, will shine above the horizontal
Photo: ILP
An LED floodlight on a hospital shining into ward windows: its wiring and short fitting bar mean that it cannot be tilted far enough downwards to illuminate the area to be lit. It will always emit upwards as well as down.
Photo: Bob Mizon
Environmental Zones
It is recommended that Local Planning Authorities specify the following environmental zones for exterior lighting control within their Development Plans.
Zone

Surrounding

Lighting Environment

Examples

E0
Protected
Dark
(SQM 20.5+)
Astronomical Observable dark skies, UNESCO starlight reserves, IDA dark sky places
E1
Natural

Intrinsically dark
(SQM 20 to 20.5)

Relatively uninhabited rural areas, National Parks, Areas of Outstanding Natural Beauty, IDA buffer zones etc.
E2
Rural
Low district brightness
(SQM ~15 to 20)
Sparsely inhabited rural areas, village, or relatively dark outer suburban locations
E3
Suburban
Medium district brightness
Well inhabited rural and urban settlements, small town centres or suburban locations
E4
Urban
High district brightness
Town/city centres with high levels of night-time activity
Source: Guidance Notes for the Reduction of Obtrusive Light GN01/2021

Where an area to be lit lies on the boundary of two zones the obtrusive light limitation values used should be those applicable to the most rigorous zone.
NB: Zone E0 must always be surrounded by an E1 Zone.
Lighting Types, qualities and Impacts - Bob Mizon Commission for Dark Skies (CfDS) - March 2016
This paper by Bob Mizon looks at best practice relating to external lighting - Different types of lighting through the years, terminology guide, threats to the environment from blue-rich white lighting, putting light where it is needed, part-night switch-offs and common misconceptions met when discussing quality lighting and good practice...
Download Lighting: types, qualities and impacts (PDF - 1.2Mb)
Institute of Lighting Professionals
The Institution of Lighting Professionals (ILP) is the UK and Ireland's largest and most influential professional lighting association, dedicated solely to excellence in lighting.
The key purpose of the ILP is to promote excellence in all forms of lighting. This includes interior, exterior, sports, road, flood, emergency, tunnel, security and festive lighting as well as design and consultancy services.
Their website contains a wealth of information and advice, and we would recommend the two links below - the first one being a PDF, and the second link taking you to the free resources page on their website:
Guidance Notes for the Reduction of Obtrusive Light (PDF)
Free Resources from the Institute of Lighting Professionals
More Links to useful resources
Blinded by the Light: A Handbook on Light Pollution
Universe Today - LEDs: Light Pollution Solution or Night Sky Nemesis? - Article by Bob King
Edison Tech Centre - Find out about the evolution of the Electric Light
Hidden Stars: an illustrated booklet for children aged 8+
Blue Light and Living Things: The harmful effects of blue light - paper by Robert Fosbury
International working group (PDF) - Regional Government of Andalusia - Declaration on the use of blue-rich white light sources for nighttime lighting
Understanding & choosing colour temperature in LED lights (YouTube Video) - David Geldart of Lumicrest Lighting Solutions
Blue-rich LED Lighting — Bright New Future? - The Commission for Dark Skies
Switchoffs - Most UK councils are adopting environmental and economic lights-out policies - The Commission for Dark Skies